How to Track Someone's iPhone Without Them Knowing
November 25, 2021
Tracking an iPhone isn't a tricky business. You might have seen countless apps in the App Store that can do the job for you.
However, what if the thing is to track someone else's iPhone? It makes the whole idea a little tricky. Add to it the requirement of 'without them knowing', and it begins to sound almost impossible.
This is why this guide is a must-read for you. You will learn how you can track someone's iPhone without them knowing.
Without wasting any time, let us get into the whole process of accomplishing it right away:
Part 1: Reasons to Track Someone's iPhone Without Them Knowing?
Tracking Your Children

You don't need me to tell you that children are not safe in the outside world. Terrible things can happen, which is why you need to make sure you do everything to keep them safe. Tracking their iPhone location is an important step in this regard.

Tracking Your Partner

If you are suspicious that your partner is cheating on you, chances are there is truth to that suspicion. With secret iPhone tracking, you can learn about your partner's activities and what all those 'late office hours' mean.

Tracking Your Employees

Employee tracking is crucial, especially if your people work on field jobs. You need to know where they are. It is not unusual for employees to bill employers while they are out attending to personal matters. Track employees' iPhones to know where they are.
For all these reasons and more, iPhone tracking is what you need. Fortunately, there is an app that can help you with it, as you will discover in the sections to come.
Safespy's iPhone tracking solution is designed uniquely for iPhones and Android phones. Let us go through the steps to accomplish this for each of them one by one:
Part 2: How to Track Someone Else's iPhone without Them Knowing?
Tracking someone's iPhone quietly requires a tracking app outside of the App Store. There is one such app that is quite popular among people and does the job exceptionally well.
2.1 Safespy - The iPhone Tracking Ninja You Must Use
Safespy is one of the best iPhone trackers out there. It combines the features and interface of the best iPhone tracking apps in your App Store, along with the stealth design of the apps outside of the App Store.
It is very well reviewed by major media outlets such as NYTimes, Forbes, TechRadar, and more. This is all due to the exceptional tracking and monitoring services it provides.
It works through a web dashboard that you can open in any web browser of your liking. This eliminates the need to install any app on your phone or computer.
Get a look at Safespy through the free live demo>>
2.2 Safespy's 'Secret' iPhone Tracking
People are often curious as to how Safespy is able to achieve iPhone tracking without the iPhone owner knowing about it. There is no secret in this and the working process is actually quite transparent.
All iPhones have the iCloud feature which uploads the iPhone data (including location data) on the iCloud server. This is generally in an encrypted format and you cannot access it directly.
Safespy decrypts this data and provides it to you on your Safespy dashboard. The iPhone owner doesn't have to know since you don't need to access their iPhone. All that is required is the iCloud username and password of the person.
You can track the target iPhone from the dashboard and use all the other features of Safespy as well. Focussing on location tracking, some of the features that you will find interesting are:
Live Location Tracking

Find the location of the iPhone in real-time. Track its movements on a Google Map as the person moves around.

Location History

Find out all the places where the iPhone has been along with the timestamps and coordinates.

Geofencing

Set boundaries on the iPhone location for automatic tracking even when you are busy. Get alerts if the person crosses these boundaries.
2.3 Steps to Track an iPhone Secretly
In order to track an iPhone using Safespy, the process is actually simpler than you might expect. You can do it without any extra knowledge or technical know-how. Here is how to do it:
Step 1: Sign up for Safespy and get a subscription for iPhones. When the subscription is purchased, you will receive an email in your inbox about confirmation. Click on the 'Start Monitoring' button in this email.
Step 2: You will be taken to the Safespy Control Panel. Enter the iCloud credentials of the target iPhone and give Safespy a few minutes to verify the credentials and sync the data.
Step 3: Once the configuration is complete, you can click on the 'Start' button on the installation complete window. This will take you to your Safespy dashboard.
Part 3: How to Track An iPhone Without Them Knowing for Free
Safespy works great for secret iPhone tracking. However, what good is life without options? Here is another solution that can give you an iPhone's location remotely:
3.1 Find My iPhone
Find My iPhone is Apple's inherent backup feature for the iPhone's location. You can use it from any iOS device and learn where the iPhone currently is.
However, as you might have guessed through its name, this feature is well suited for tracking your own iPhone. In general, people use it to find the location of a lost phone through another iOS device.
Here are the steps to use it:
Step 1: Enable the Find My iPhone feature on the iPhone you want to track. This can be done under Settings> [Your Apple ID]> iCloud> Find My iPhone.
Step 2: Use any iOS device and open the 'Find My iPhone' application. Sign in to your Apple account on this application.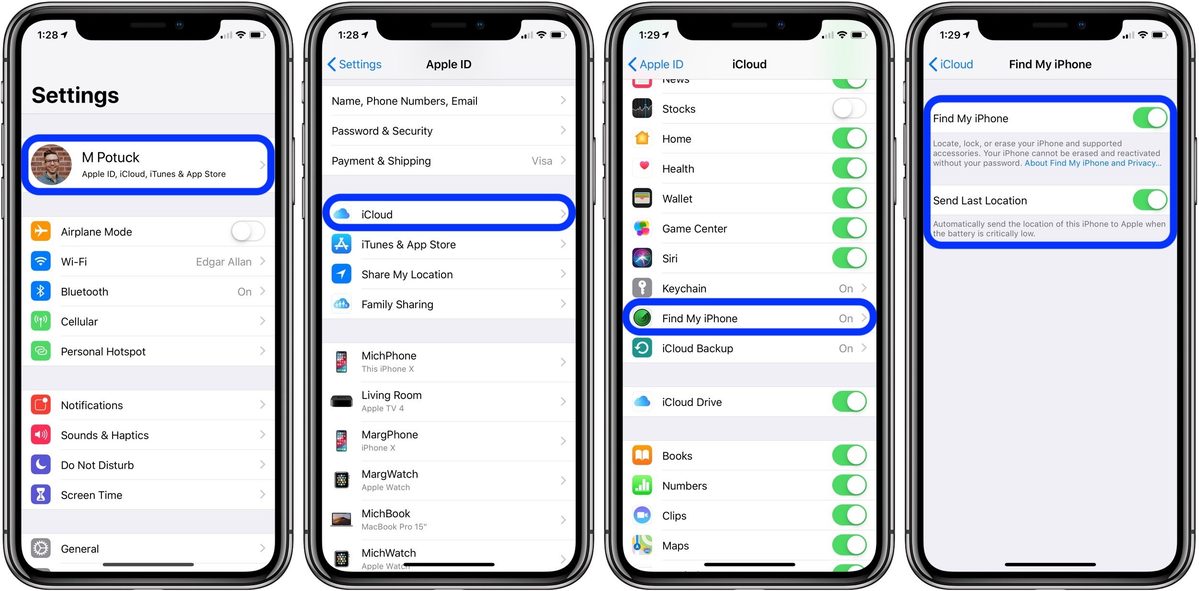 Step 3: Choose the device linked to the Apple account that you want to track.
Step 4: The device location will be on your screen.
3.2 Free v.s Paid iPhone Tracker
People are often tempted to choose the free iPhone tracking solution instead of Safespy. However, when you know more about what each offers, you might choose otherwise.
With a solution such as Safespy, you get access to over 35 features. Each of these features is useful for tracking an iPhone. With a free solution such as Find My iPhone or any App Store application, there are no added features.
Safespy's design revolves around stealth. When you use this application, there is no chance that the iPhone owner will find out about it. There is no concept of stealth with the inherent iPhone location trackers such as Find My iPhone.
Safespy is ideal to track the people that matter, such as your children, partner, employees, and more. Free iPhone tracking solutions are ideal for tracking your own lost or stolen iPhone, nothing more.
Conclusion
Tracking an iPhone doesn't have to be hard. You just need to know the right app for the purpose, and the right way to use that app. If you do choose the right app, the way to use it also becomes a piece of cake.
The final notes on that matter would be that Safespy is a great choice for tracking an iPhone location secretly. Just spend a few minutes setting it up for the first time, there will be nothing else to worry about later.