Read Their Facebook Messenger Chats
Find out what messages they send and receive on their Facebook account, including the media files.
Learn about their Facebook activities in detail:
Check their sent and received Facebook messages.

See any media files (pictures and videos) they send or receive.

View the Facebook ID of any person they are in contact with.
Secure Facebook Spying in 3 Simple Steps
Try Now
Register for a Safespy account using your email address and a password.

Setup Safespy
Setup Safespy for the target device following the instructions on-screen.

View Facebook Data
Use your Safespy dashboard to view their Facebook messages and more.
Create an account for free
By signing up, I hereby agree to the Privacy Policy
Check Live Demo Here >>
Best Way for Easy Facebook Spying
Safespy provides an easy to use method for viewing the Facebook data of the person. Once you are done with the one-time setup process, you get access to Safespy's features through its online dashboard. The Facebook monitor is present under the 'Social Media Apps' tab.
Once Safespy is configured, login to your dashboard by using the username and password. At the dashboard, you can find the 'Facebook Monitor' under 'Social Media Apps'. It shows you all the chats of the user, along with other detailed information.
Safespy's Facebook Monitor is the most comprehensive solution to view someone's private Facebook messages. You can see their every single Facebook activity through this solution without following any hard-to-meet requirements. All that is needed is a one-time setup for their device (Android or iOS).
The depth of information provided by Safespy is unparalleled, since you can even view any messages or chats that the person has deleted. No matter how old or new the chat is, Safespy updates the messages in real-time.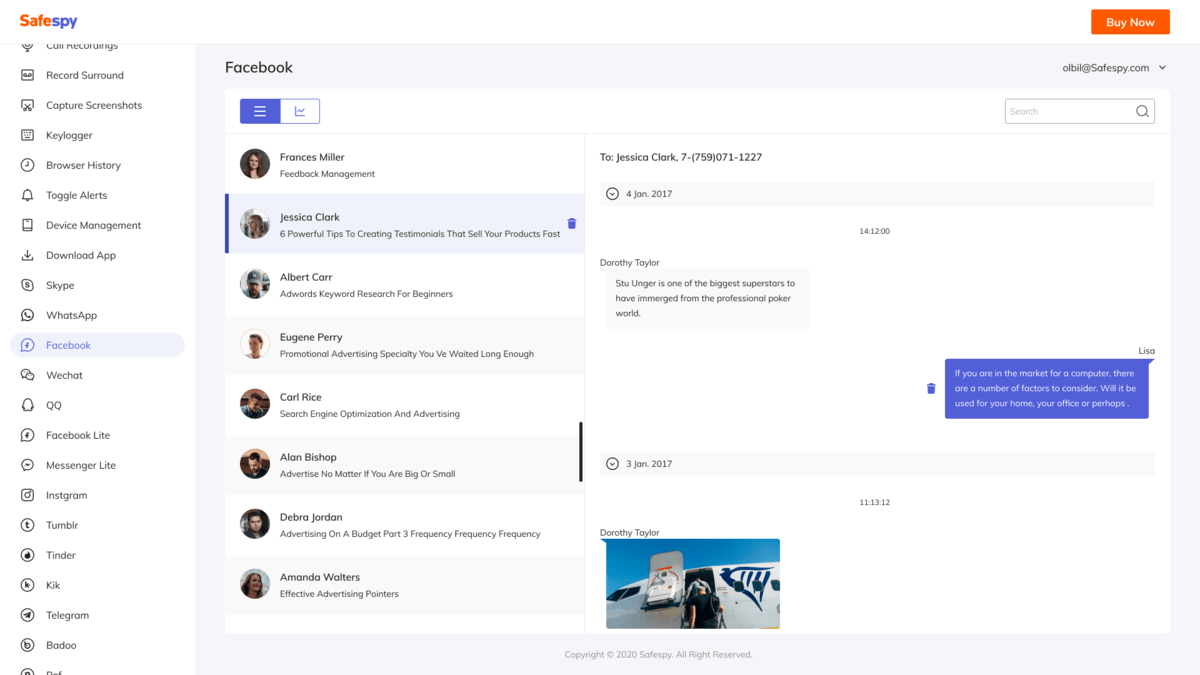 Find Someone's Darkest Secrets Without Them Knowing
People will not share everything with you, no matter how close you are to them. However, Facebook has become one of the closest secret keepers as everyone tries to share their deepest darkest secrets with people on the internet. Therefore, through Safespy's Facebook Monitor, you can know if anyone you care about is keeping any such secret from you.
Forget Rooting or Jailbreaking
Safespy is not like other Facebook spy apps in the sense that it does not ask you to root or jailbreak the target device. Safespy can work directly on the phone in an as-is condition. Rooting or jailbreaking a device can harm its integrity and get you caught, we would never want to do any of that to your loved ones!
Stress-free Facebook Monitoring
People who want to monitor a cell phone's data (such as Facebook messages) are often concerned about security measures in the spy app. Therefore, Safespy uses the best security measures you will find anywhere. In fact, we don't store any of the private messages on our servers, so even our own team cannot view your private messages.
Employers Use Facebook Monitoring
If you want to run a successful business, keeping check on your employees is important. Safespy provides the best way to do that by giving you unlimited access to their Facebook activities. You can find out if your employees are responding in the appropriate manner to the customers, or if they are spreading any bad word about your company.
Through Safespy's Facebook Spy, you can also find out if any of your workers are applying for interviews in other companies. In case they are sharing any company secrets, you will know about that as well.
Secure Your Child's Safety
Facebook has become the lifeblood of kids nowadays, especially teenagers. However, at this tender age, they are still innocent and vulnerable. Therefore, they need their parents to keep an eye on them so that they do not take any inappropriate or harmful step.
With Safespy, you no longer need to ask your kid to show their phone. You can access Safespy dashboard from your own phone or computer and easily view all their messages from your own device, without your child knowing about it.
In fact, Facebook monitoring is not just limited to your child but you can even use it on other members of your family. For example, you wouldn't want your spouse to chat with random strangers on the internet, would you? Use Safespy's Facebook monitoring module and make sure they never do these things ever.