Safespy provides a unique way to access the entire data of an Android phone without leaving any traces. In fact, once you have configured Safespy, you can use it for the entire lifetime of the phone (or unless you uninstall it remotely). For this purpose, millions of users globally employ Safespy's Android tracking service.
Part Two: Method to Track an Android Phone
Tracking an Android phone only requires the three steps as follows:
1. Get a Safespy subscription plan.
2. Follow a one-time configuration process.
3. Enjoy all the Android tracking features of Safespy.
Now let us go through a detailed explanation of the steps:
Step 1. Getting the prerequisites ready
1. First things first, go to https://safespy.com from any web browser of any device you have. You can use your email as username and choose a password of your choice to create an account. Alternatively, you can also create an account through the form below:
2. When you have created the account, you can follow up by getting a subscription plan for Android devices. There are various options to choose from, depending on your requirements. Once you have purchased the subscription, you will be taken to the setup process.
Fill the fields in the setup process as required. Provide a name for the Android phone and select the appropriate operating system (Android).
3. Get the target phone in hand and go to "Settings">"Security". Enable the option that says "Install apps from unknown sources".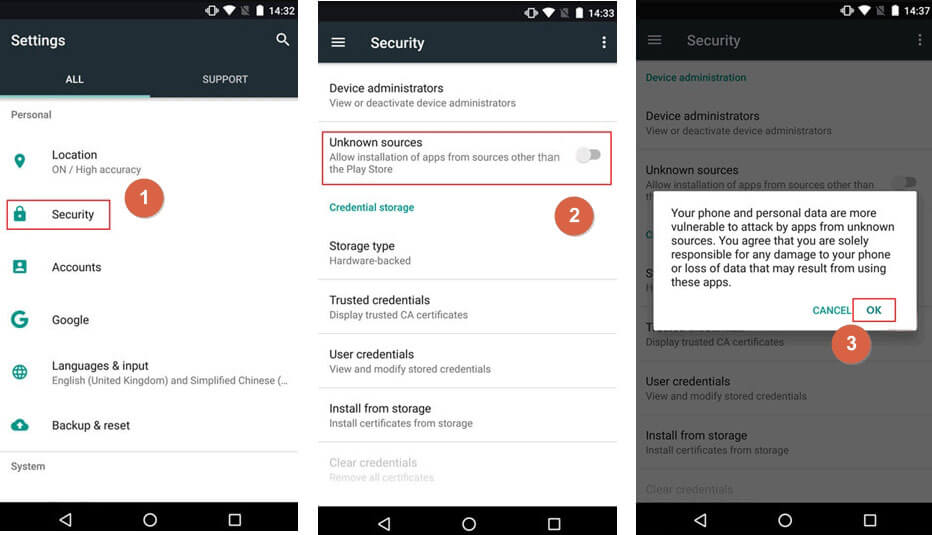 After that, go to "Settings" > "Google" > "Security" > "Google Play Protect". Disable "Improve harmful app detection" & "Scan device for security threats".
Step 2. Configuring Safespy
1. In order to use Safespy, you should install the Safespy app on the Android device. You can download the app from the link mentioned in the setup wizard. Since the app is less than 3 MB in size, it only takes a few seconds to install it. If you have followed the previous step, you will not face any issue with the installation process.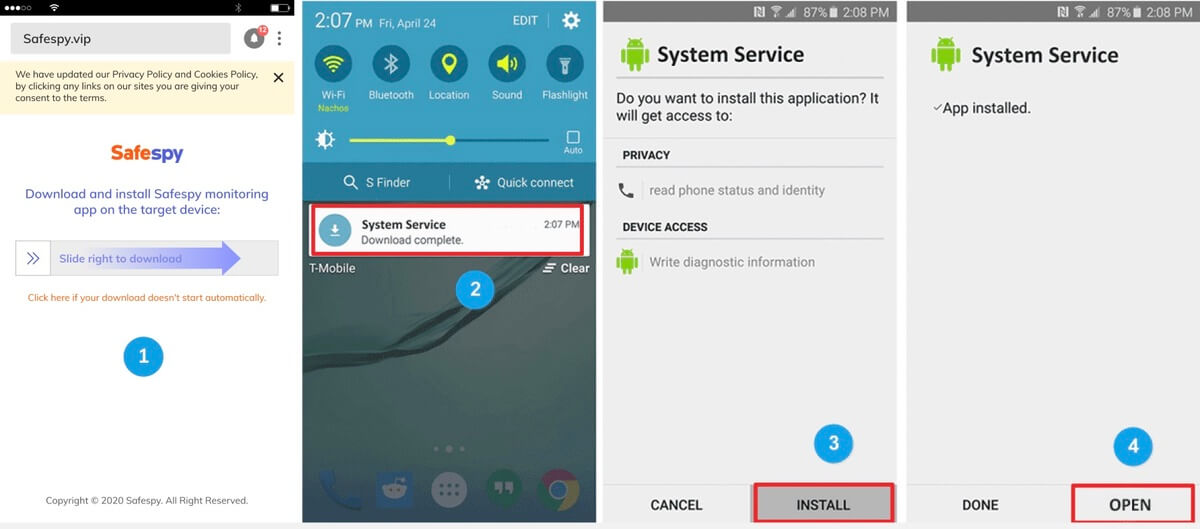 2. When the app is installed, you can read the Privacy Policy and EULA. Click on 'Agree' when you have read it. After that, you can sign into your Safespy account with your login credentials that you used while creating the account.
3. After that, it is very important to allow all the permissions that Safespy requires. Once you have allowed the permissions, Safespy will ask you if you want to keep the app icon or hide it. If you choose to hide it, you can launch the app again by dialing the secret code (**001**). On the Safespy setup window, click on the 'Start' button. Congrats! Installation is completed.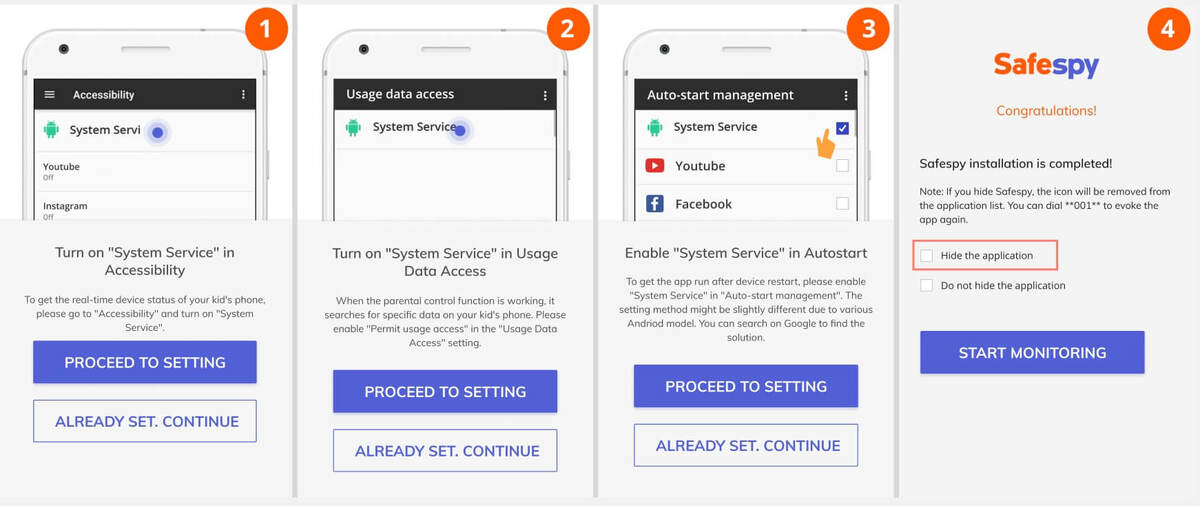 Step 3. Access Your Safespy Dashboard
Once you have logged into the app on the target device using your Safespy credentials, you are ready to monitor its data from any device. Simply log into your Safespy account from any web browser. You will be redirected to your dashboard from where you can view their data.
If the first time login process takes longer, don't be alarmed, This is quite natural as Safespy is syncing all the data during the first time use. Therefore, it can take about 5-10 minutes, depending on your internet connection. After this time, you will find all their data on your Safespy dashboard window.