View their entire Snapchat activity on a single screen.
Check all the messages they have sent or received.
View all texts long after they have vanished.
See all the media files they send and receive.

Find the people they have added on their Snapchat.

Look at their deleted conversations and pictures.

Monitor all their Snapchat activity without them knowing.
Snapchat Spying in 3 Easy Steps

Sign Up Free
Signup for a Safespy account with your email address.
Configure
Setup Safespy following the instructions present on the screen.
Begin Snapchat Spying
Use your Safespy dashboard to view all their private Snapchat data.
Create an account for free
By signing up, I hereby agree to the Privacy Policy
Check Live Demo Here >>
Secret Snapchat Monitor
Safespy just needs a one-time configuration process, after which you get lifetime access to their private Snapchat data. For iPhones and iPads, this setup process involves providing the iCloud credentials of the target device. For Android devices, it involves installing the hidden Safespy app on the target device.
When you have completed the setup process, the Safespy dashboard and its features are accessible to you. You can open this dashboard from any web browser by logging into your Safespy account. The Snapchat Spy service is present under the 'Social Media Apps' tab.
Safespy's Snapchat monitor is not just limited to their sent and received messages. You also get to view any conversation that they have knowingly deleted, or messages that have been deleted due to Snapchat's vanishing features. Even pictures and videos can be seen after being vanished.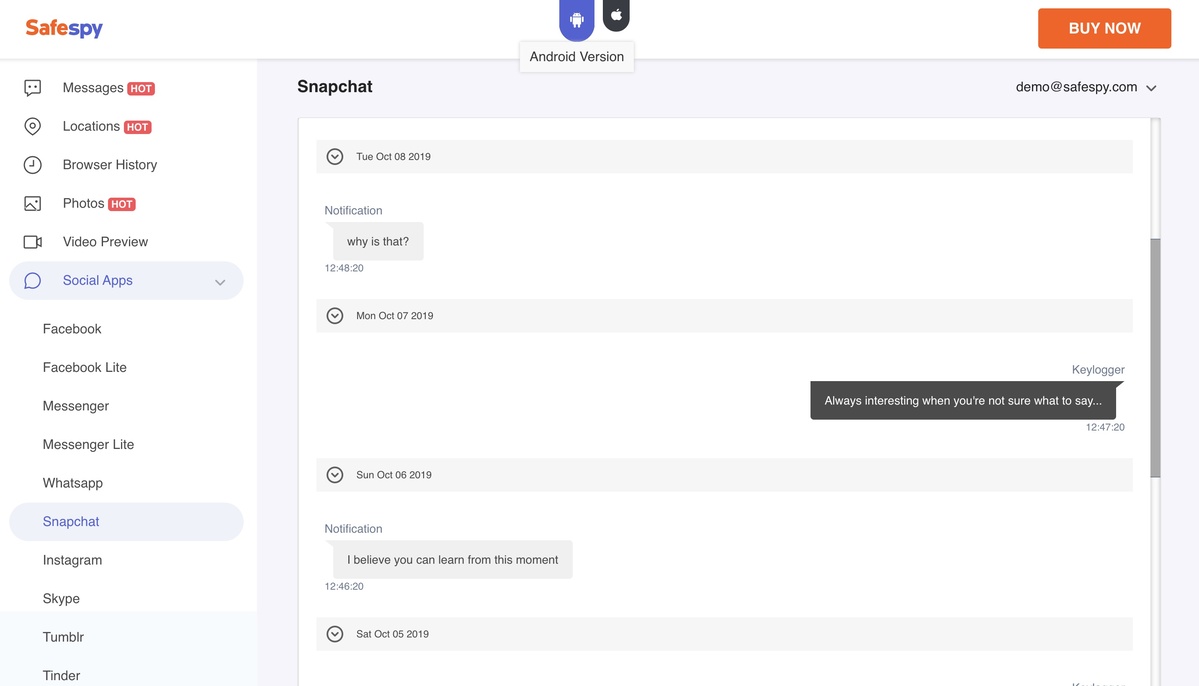 Why Everyone is Using Snapchat Monitors?
Millions of users all over the world are regular users of Safespy's Snapchat Monitoring service. This is because this service has a wide variety of applications, no matter which walk of life you belong to.
Parents are the primary users of this application since Snapchat is full of teenagers nowadays. At the same time, it also has people that are totally unsuitable for a child to talk to. Through Safespy's Snapchat monitoring service, parents ensure that their kid is not in touch with any of these elements..
People also use Snapchat monitoring service to keep an eye on their partner if there is something fishy. Once you are a user of Safespy, you can know for sure if your partner is sending inappropriate messages or pictures to anyone on Snapchat behind your back.
No Need to Root or Jailbreak
Snapchat monitoring through Safespy does not require you to root or jailbreak the phone which you want to spy. This is because Safespy has specially used special design elements eliminating any hard to meet requirements.
Read Snapchat Messages With Complete Secrecy
Using Safespy to read the Snapchat messages of any person assures you that they will not find out about it. This is because Safespy incorporates special stealth measures for both- Android phones and iPhones. It has created solutions unique to each platform, designed to be completely quiet and stealthy.