Call Recording and Call Tracking Features
Safespy gives you the option to not only view their call details but even record the phone calls to know what they talk on the phone.
When it comes to viewing their call logs, you can see added details such as call time, duration, and even the caller identity of the person who made/received the phone call.
Record phone calls for later listening or listen to calls in real-time.

Phone call monitoring is a piece of cake with Safespy's ease to use dashboard.

Safespy does not require rooting or jailbreaking a device to monitor its phone calls..

Stealth mode makes sure that the phone owner does not find out you are monitoring their device.
Track Phone Calls With Ease in 3 Steps
Sign Up Free
Create a Safespy account using your current email address.

Setup Safespy
Follow the on-screen guide to configure Safespy for getting the target phone's data.

Monitor their Phone Calls
After the setup process, access your dashboard and use the call tracking features.
Create an account for free
By signing up, I hereby agree to the Privacy Policy
Check Live Demo Here >>
Remote Call Tracking Without Phone Access
Safespy makes it possible to track the phone calls of a person from any corner of the world. There is no need to be in proximity to them and it is irrelevant which phone network they use. All you need is a Safespy account.
Once you have a Safespy account configured after the one-time setup, you can access your dashboard at any time by logging into your account from the website. The Call Tracker is present in the 'Calls' tab on the left side of the dashboard.
Safespy Call Tracking- An Indispensable Feature
Phone call monitoring of someone you care about can come in quite handy in more ways than one. This is why people from all walks of life use Safespy, regardless of their purpose.
For instance, countless parents are using Safespy for learning about their children's cell phone activities. Since children are impressionable and vulnerable, it is important to know who they talk to and what they talk about. Safespy provides the best way to find that out.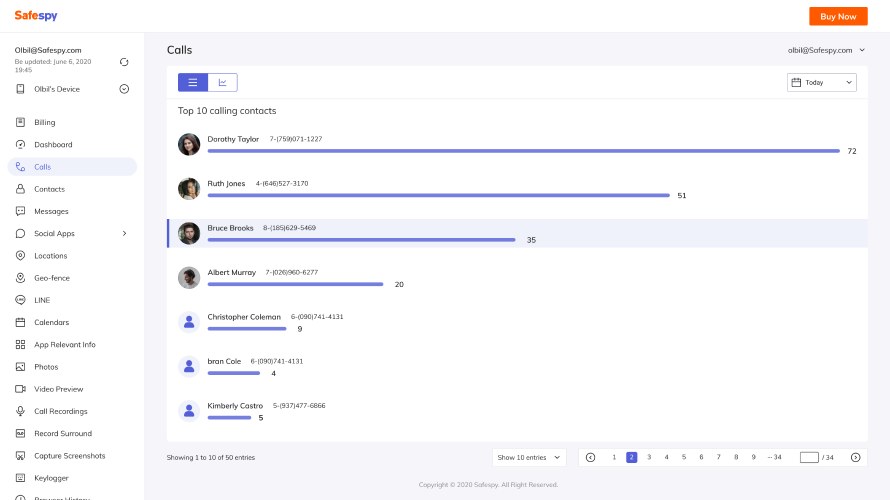 Even for people who are having suspicions on their partners, Safespy turns out to be nothing short of a miracle. Through Safespy, people are able to save their relationships before it is too late. Even if you have delayed in using Safespy, you can still find concrete proof about your partner's betrayal by monitoring their phone calls through it.
The best part is that using Safespy does not require any technical knowledge and is completely secure. Therefore, you can use it with ease without worrying about learning any new skills or working processes.
The call logs provided by Safespy can be sorted based on various options. You can view as many call logs per page as you like. You can also arrange them on the basis of date and time, call duration, frequently contacted, and more.