Track Browsing History
Keep Track of All Internet Activity of a Phone or Tablet
Find out all they do on the internet
Check the websites they have bookmarked and visit often.

Learn about any inappropriate content they are visiting.

Block access to anything that might bring them harm.
Viewing Browser History Only Takes 3 Steps

Signup for Safespy
Start by getting a Safespy account with a subscription plan for their device.
Configure Safespy
Safespy's setup wizard will guide you through the one-time configuration process.
View Internet History
Use your Safespy dashboard to view their entire browser history and other data.
Create an account for free
By signing up, I hereby agree to the Privacy Policy
Check Live Demo Here >>
Viewing Browser History Takes Only Few Clicks!
When you are done with the one-time setup process, you can view their browser history at any time using your Safespy dashboard. In order to view their history, simply log into your Safespy account through the website. You will be redirected to your dashboard, and the browser history can be seen under the 'Browser History' tab.
Safespy's Browser History Monitor is not just limited to seeing the websites they visit. There is a lot of other information that you can get through this service, such as the sites they have bookmarked and the sites they visit most often.
There are many sorting filters that can be applied to learn more about their internet activities. For instance, you can sort the results based on the websites they have visited the most, or sort them based on the websites visited most recently.
You can update the data in real-time by clicking on the refresh button. This means that if they are browsing the internet right now, you can find out the website that is open in their browser. This holds true regardless of the web browser they use.
In case you find any website to be harmful, you can even block the website from opening on their device. This provides absolute control to you in order to protect the device owner from accessing inappropriate content.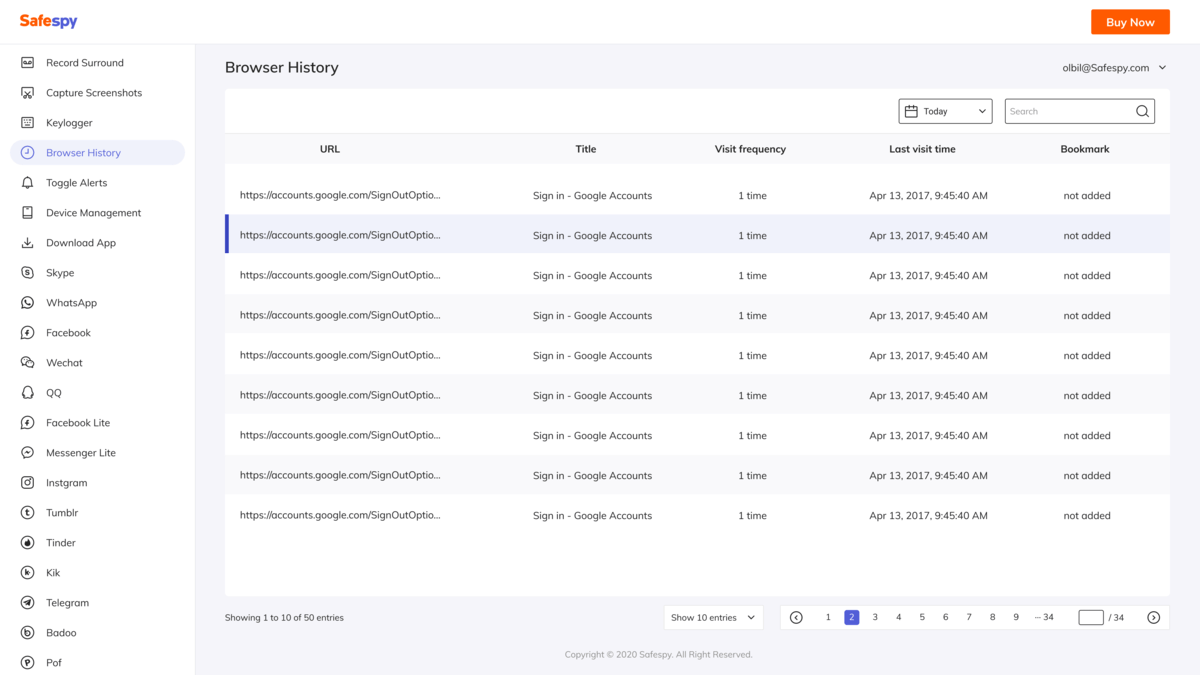 Find Their Darkest Secrets
No matter whether a person is young or old, their browser history can give the best idea about them. You can find out where their mind lies by checking out the websites they visit.
In case you are checking the browser history of your children, it is important to make sure that they do not visit any pornographic websites or any scam sources. For this cause, you can even block their access to any of the websites that you find harmful.
When it comes to your partner, the browser history monitor can tell you if your partner is out buying gifts for someone else or if they are searching for people they shouldn't search. All in all, you can avoid betrayals before it is too late, all thanks to our Internet History Monitor feature.
If you are an employer, you wouldn't want your employee to slack off by surfing the internet during work hours. Additionally, you don't want them viewing harmful websites using your systems or IP addresses. Take preemptive measures and start using Safespy right away.
Forget About Root or Jailbreak
Safespy is not like those outdated solutions that constantly nag you about rooting or jailbreaking the device you wish to monitor. We use cutting-edge design elements to make sure that rooting or jailbreaking is not required in any step, no matter how advanced features you use.
With Safespy, Secrecy is Implied
Safespy is extra cautious so you don't have to be. There are special measures to ensure that the phone user does not find out that you are tracking their history. This is made possible by stealth designs exclusive to Android phones and iPhones architecture.