Read Text Messages Secretly
View all their SMS chats, including sent and received texts..
Read the OTPs they receive through text messages.
See the contact identity and phone number with who they text.

Read the messages even if they are deleted or chat is removed.

View additional message details such as the timestamps.

Follow a one-time configuration process for lifetime message access.
SMS Interception Through 3 Easy Steps
Create Account
Make a Safespy account using your email address as username.

Setup Safespy
Safespy's setup wizard will guide you through the configuration process.

Get Unlimited Access
Use your Safespy dashboard and view all their phone messages here.
Create an account for free
By signing up, I hereby agree to the Privacy Policy
Check Live Demo Here >>
Remote SMS Intercepting Service
You don't have to be in proximity of the device or use the same network in order to read its SMS messages. Safespy employs data forwarding features, so you only need a one-time configuration process and their messages will automatically reach you after that.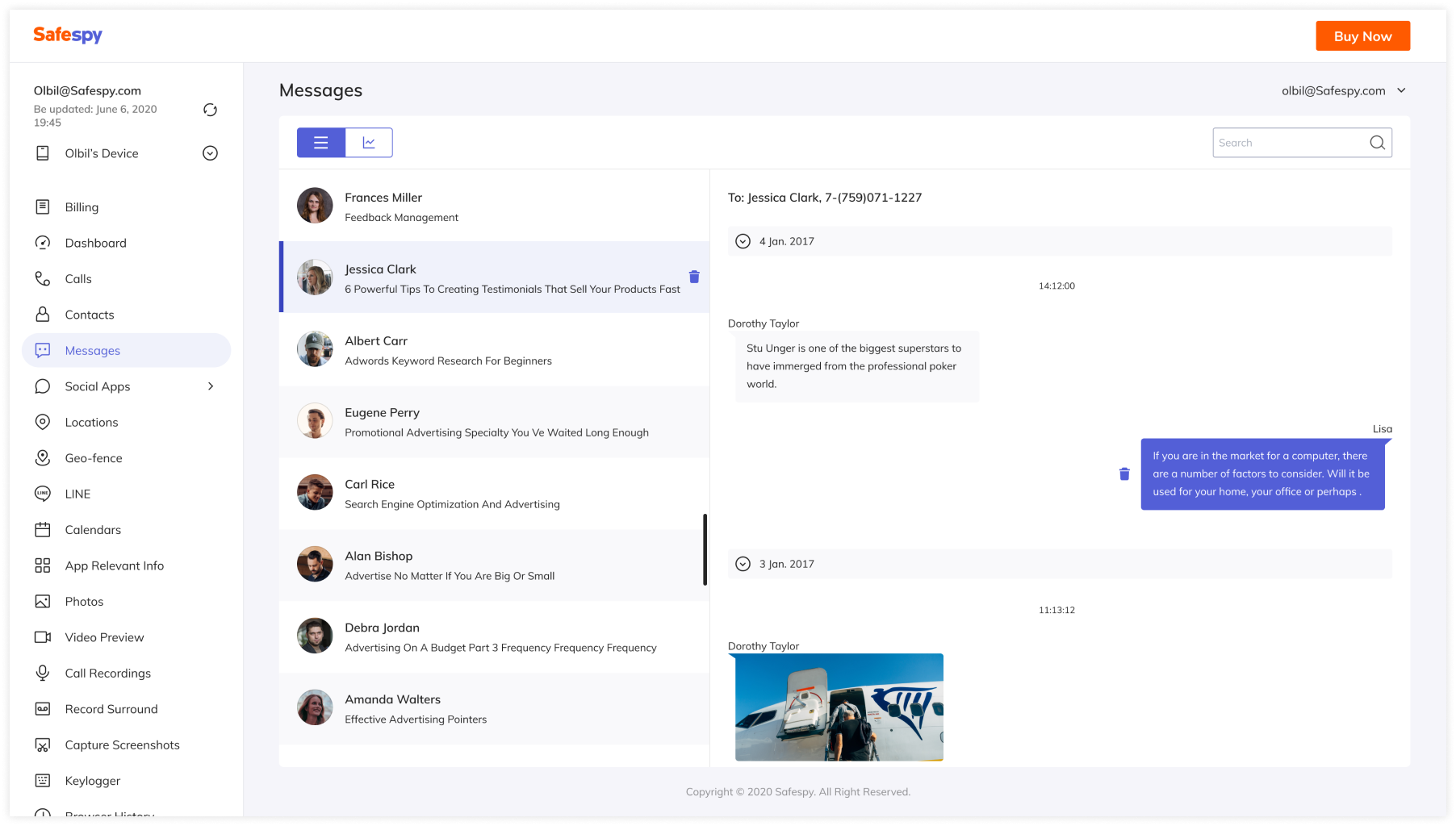 Oversee Your Loved Ones
If you don't protect your children and your relationships, who will? Use the message monitoring feature to always know what your family members are up to. Read their SMS chats with their contact list and with unknown numbers as well. Find the contact identity of every number they chat with.
Monitor Your Workplace
Many people have a tendency to slack off, even during work hours. With Safespy's Message Monitor, employers can keep a track of how much distracted their employees get. You can know if your workers are casually texting when they should be working, and you can take this information into account during appraisals.
Check One Time Passwords (OTPs)
Most online websites and accounts use OTPs for account logins. Safespy provides you with the OTP they receive, so you can bypass two factor authentication and login into a person's social media account. This helps in finding out what your child is hiding behind their online presence.
Safespy Does Not Require Root/Jailbreak
We no longer live in the world where smartphones were just launched and getting its data requires complicated guides and processes. With Safespy's advanced architecture, you no longer have to root or jailbreak a phone to find out what lies behind its veil of security.
Secret Message Monitoring
Secrecy is a major requirement for people looking for a SMS monitoring service. Safespy comes through with the assurance that no matter for how long you monitor someone's device, they will not find out about it. Of course, there is the condition that you do not tell it to them yourself.
Using Safespy's message monitor is quick, simple, and easy. You just need a one-time setup and you are ready to monitor for as many times as you want, as long as you want. This is why millions of users employ Safespy's message tracker regularly, and so should you!