How to Track My Child's Phone Without Them Knowing
November 25, 2021
Many parents around the globe look for spy software to inspect their children. One of the most important reasons for spying is to keep your children safe from getting bullied or indulging in wrong activities. Spy software can be a need for all those parents who need to inspect their children.
Due to immense development in the field of technology, it has turned out possible to track your child's phone without him knowing, be it an Android device or an iPhone. If any parent wants to get authentic information on how to monitor your child's phone, this article would be helpful for you.
Part 1: How to Monitor My Child's Phone without Them Knowing?
If you want to keep a check over the youth with the aid of modern tools, Safespy is your best choice whehter your child uses an iPhone or an Android phone.
In the target iPhone, this is achievable to spy on your children without physically accessing their phones even for once. This monitor spy app requires the iCloud ID and password of your children and provides their movement and all other minute details on the app's dashboard. To gain all the spying information, you don't have to install the app on a target iPhone.
In the Android target phone, it is required to download the app on the target phone in order to gain its location information. However, Safespy is undetectable in the Android target phone due to its stealth mode that removes the application's icon from the display. This app has a small size, i.e., 2MB, which does not create space issues on the phone. So the target does not inquire about these issues.
Moreover, Safespy offers live-demo on both Android and iOS devices, which means that you can check how the app works without paying for it. By live demo, you can easily and quickly see the advantages the app brings to you without paying any charges.
Part 2: How to Monitor Kid's Phone without Having Their Phone
Keeping an eye on your kid is very important in an era like ours. It is crucial to keep an eye on your son to check if he is being bullied or a reason for someone being harassed. This parent spy app lets you track your kid's iPhone without having their phone.
The solution of Safespy on iOS is remote. It means that this software will gather information without touching the target iPhone. If the user wants to access an iPhone for tracking the information, he needs to follow simple steps.
Step 1: Register a free account with your email ID and connect it to the internet. You will receive a verification code in your email, which you can use to activate your account. This is an essential step because every update will be provided on a given email ID.
Step 2: From the received Email, you can click the "Start Monitoring" option to enter the Control panel of Safespy. Now, all you need is the target's iCloud ID and Password. Disable two-factor authentication, and this app will start tracking the target's location.
Step 3: Safespy is now monitoring the target's phone. You can track the location of your children from the control panel using any web browser.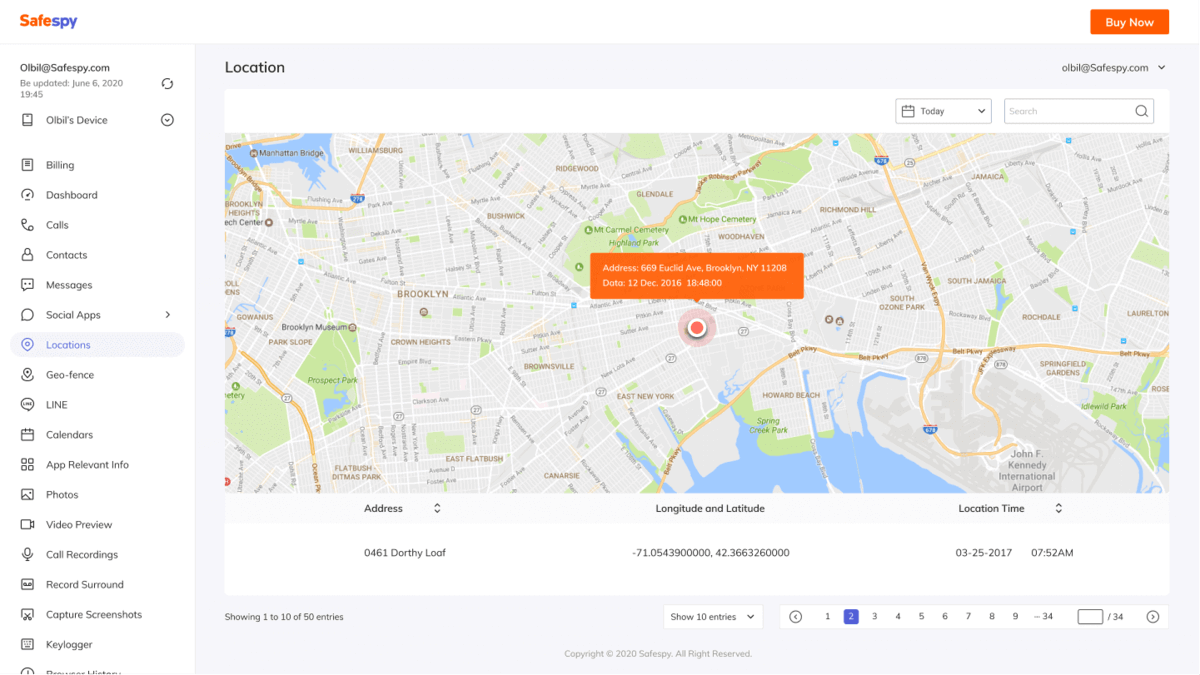 Part 3: How to Track My Child's Phone without Them Knowing
Parents nowadays have a genuine concern, and they often do searches, such as how to track my child's phone without her knowing. This is due to their safety concerns to keep them safe by tracking their phone secretly.
This software lets you track your child's phone and remains undetectable. As it is required to download the app on the target Android phone, one has to follow the given steps.
Step 1: Register the account on the Safespy service. All you need is an existing account and a strong password. Pick a subscription plan that includes Basic, premium, and Family packages according to your requirements.
Step 2: Download and install the Android tracking app on the target device. As this application has an option of hiding itself, choose the option to hide it from the homescreen.
Step 3: After you are done performing the above steps, you can now sign in to your Safespy account on any web browser through any device.
Step 4: As the software is now tracking the information, you can go to the dashboard and choose the "Location tracking" tab, which shows the real-time movement of the target device.
Part 4: Track My Child's Phone for Free
iPhone devices have a built-in "find my iPhone" feature in it. This feature allows a user to track the iPhone, iPad, Mac, or Apple Watch.
On the iPhone, when you go to settings, choose the Apple ID on the top corner. You have to enable "find my iPhone." Moreover, one can also enable "Share my Location" in order to let relatives find the current location.
This feature is handy if you want to check the location of any iPhone. Moreover, in case of any theft or loss of an iPhone, one can use the Find My app on another device to see its last known location.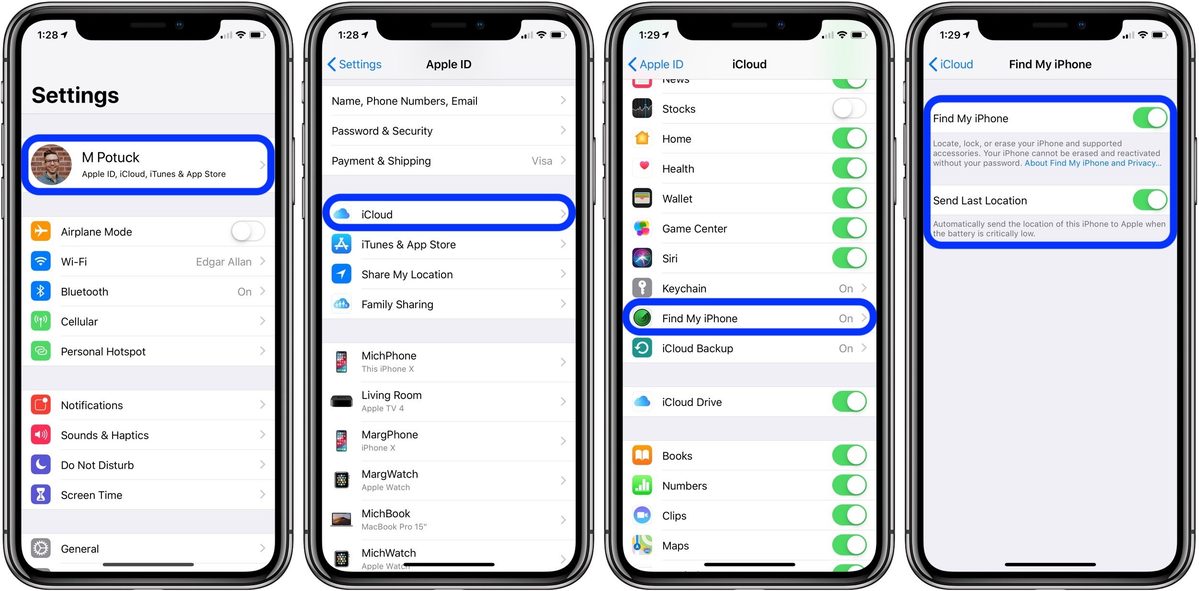 If the Android user has added a google account to its device, then the "find my device" feature is automatically ON.
To enable the "find my device" feature, you need to go to settings and after tapping on the Security, enable the find my location option. It works to locate the relative Android phone, and this feature helps locate lost Android, and you lock it until you get it back. You can see the device on a map and watch the last location.
Part 5: 3 Parent Spy Apps to Monitor Kid's Phone
There are three more parent spy apps that can provide you spying information related to your child's phone. We have briefly introduced them to you below.
MMGuardian
MMGuardian has virtually every feature used for tracking the target phone. It has user interfaces on both Android and iOS. However, the app has several shortcomings as it has a high subscription price.
It can track the target's location without him knowing. Moreover, it provides shared text messages details on its dashboard. On both Android and iOS, MMGuardian blocks the native web browser and swaps it with its own.
It has a time management feature for Android devices only and lets the user schedule when the phone is locked completely. Moreover, it also provides 14- days' free trial to its users.
Net Nanny
Net Nanny is a parental control app that can provide controlling features to parents for their children's safety. This app lets you limit your child's screen time and set specific hours of the day when your child can be online.
The software can provide protection to your children on various social apps like TikTok, Instagram, Tumblr, Facebook & more. It can track the target's location and display it on the dashboard.
Moreover, with the assistance of this spy software, the user can block the dark sites and limit their child's exposure to adult content.
Norton Family
Norton Family provides parents with the important information they need to help keep their children safer and focused. It shows parents about the content their children are viewing and also assists them in blocking specific sites on their child's phone.
Moreover, this app can set limits around children's device usage so that they don't overuse their phones and focus on the rest of their lives. Lastly, this app also proposes a 30 days free trial to its users.
Conclusion
We have concluded Safespy's functionality on both Android and iPhone, along with 3 more parental spy apps. Hence, any parents who are worried about their children and search the internet about ways to spy on kid's phones can surely gain assistance from this article.