Geofence Alert
Create location boundaries for your child to track them automatically even when you can't.
Safespy lets you create allowed zones and forbidden zones on a person's location without their knowledge. If they enter a forbidden zone or leave an allowed zone, you get an alert
Create any number of zones as you want.

Automatic alerts ensure that you don't have to be glued to your screen.

See their live location and location movements in real-time.
Create Geofence in 3 Simple Steps

Try Now
Register for a Safespy account and get a subscription plan for Android devices.
Setup Safespy.
Follow the on-screen guide to configure Safespy for the target device.
Start Using Geofencing
Access your Safespy dashboard and start creating geofences.
Create an account for free
By signing up, I hereby agree to the Privacy Policy
Check Live Demo Here >>
Advanced Geofence Monitoring
Once you have followed the one-time setup process of Safespy, you can use the online dashboard and all its features. In order to set-up geofences, you can click on the 'Geofence' tab on the left hand side of the dashboard.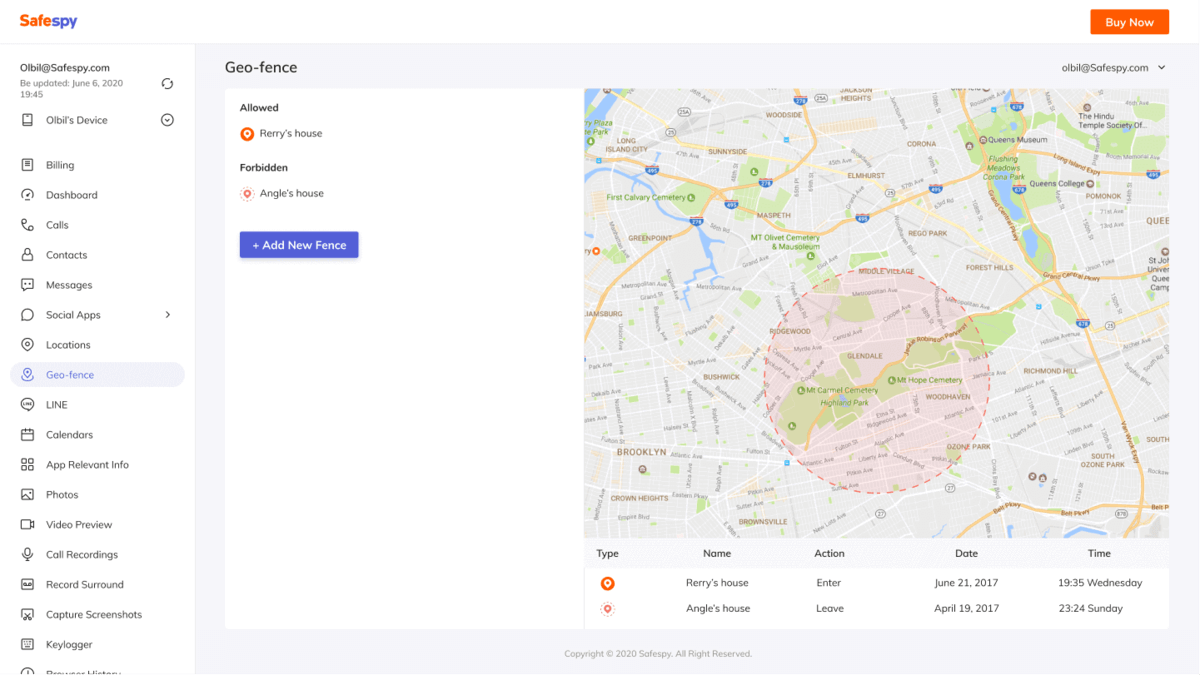 You can access your dashboard at any time by logging into your Safespy account through the website. All of the features of Safespy are available through this dashboard.
After you are done with setting up the geofences, you can rest carefree. Safespy will monitor the location of the device at all times. If they cross the location barriers, you are sent an immediate alert about it.
Geofencing Can Provide Critical Benefits
Geofencing is quite a versatile feature that anyone and everyone can use. Its benefits far surpass traditional location tracking as it avoids the need to view their phone location on the screen at all times.
Parents are one of the prime audience of this feature. Since parents are worried about their child's safety when they are at school or elsewhere, parents can set geofences around their children. Even if the parent is at work or busy, Safespy still keeps a track of the child's location for the parent.
Employers can also use geofencing to monitor the activity of their employees. This is specially the case for businesses that operate on the field..
Geofencing Without Root or Jailbreak
Using Safespy for setting secret geofences on someone does not require rooting or jailbreaking their device. This is quite a remarkable feat since Geofencing is quite an advanced feature and rarely any method can accomplish it without rooting or jailbreaking..
Secret Location Monitoring
Safespy uses advanced protocols to make sure that you do not get caught while monitoring someone's phone location through Geofencing. Therefore, you can keep tab on them 24x7 and still they will never find out about it, regardless of whether they use an iPhone or an Android phone..